Results 6 days before the missed period1

The Clearblue Ultra Early Pregnancy Test allows women to test as early as 6 days before the missed period, which is 5 days before the day of the expected period.1
The level of human chorionic gonadotrophin (hCG) rises rapidly in early pregnancy. This rise in hCG can vary from woman to woman, and not all pregnant women who test before the day of her missed period will get a positive (pregnant) result. In clinical testing with early pregnancy samples, Clearblue Ultra Early gave the following results: Table One: Likelihood that a pregnant woman will get a positive (pregnant) result with the Clearblue Early Pregnancy Test when testing in the days leading up to the day of the missed period
Number of days before the missed period

Percentage of samples from pregnant women

giving a pregnant result2

-1

>99%

-2

>99%

-3

>99%

-4

>99%

-5

96%

-6

79%
The Clearblue Early Pregnancy Test product pack and instructions for use contain clear information regarding early testing, allowing women to make an informed choice about when to test.
Over 99% accurate3
If used on or after the day of the expected period, the Clearblue Ultra Early Pregnancy Test is more than 99% accurate at detecting pregnancy.3
Unique Floodguard ™ Technology
Clearblue is the first and only brand with Floodguard™ Technology which helps to reduce the #1 reported usage error by >70%4 and gives women results they can be confident in. The unique Floodguard™ Technology in the Clearblue Ultra Early Pregnancy Test collects excess urine that could otherwise cause the test to work incorrectly.

Innovative ergonomic design
The innovative design of the Clearblue Ultra Early Pregnancy Test features:
A longer, ergonomically designed handle
A wider, colour-changing tip so the user knows that urine has been absorbed
A large, easy-to-read results window
Easy-to-read results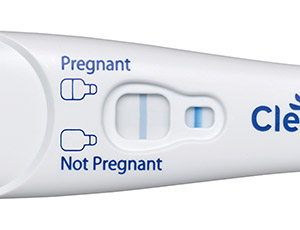 A line in the test window and the small control window indicates a positive (pregnant) result. It does not matter if one of the lines is lighter or darker than the other; the result is still positive.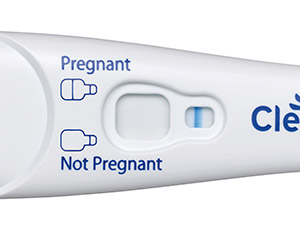 A single line in the control window only indicates a negative (not pregnant) result. Women who receive an initial negative result when testing early should test again on the day of their expected period.