The World's No 1 selling brand3
Clearblue
Pregnancy and Ovulation Tests
Clearblue tests can help you find the answers you are looking for by providing clear results with accuracy and convenience. Our current range of products includes pregnancy tests, ovulation tests and the Clearblue Fertility Monitor.
Over the past 33 years over 23,000 volunteers have been involved in Clearblue clinical research in more than 140 trials. We are committed to helping you manage your reproductive health.
---
How to get pregnant ?
You can only get pregnant if you have unprotected sex during the few days each menstrual cycle leading up to and including the day of ovulation. So, if you are trying to conceive Clearblue Ovulation Tests enable you to identify these fertile days helping you to get pregnant faster. 
---
Am I pregnant ?
Various early pregnancy symptoms can indicate you might be pregnant. They differ from woman to woman and from pregnancy to pregnancy. If you are pregnant, you may notice one or more of these symptoms or none at all. That's why Clearblue® Early Detection Pregnancy Test can be used up to 6 days before your missed period, which is 5 days before the day you would expect your period to start (your 'expected period' day).4
---
Who is Clearblue?
Over 30 years of World firsts from the pregnancy and fertility category experts. The Clearblue brand has a history of more than 30 years of innovation, giving women confidence and reassurance. That's why over 20 million women choose our products every year and over 30 million women visit our website to find the answers they need.
---
Our mission
We put women right at the heart of everything we do – from education and technological development through to design, research, clinical studies, field trials and testing. Our mission is to transform the way women manage their reproductive health.
---
Our history
For over 30 years we have helped millions of women across the globe by delivering accurate & clear answers at life-changing moments. Whether trying to conceive or thinking they may be pregnant, we have been supporting women with innovative Clearblue products to manage their reproductive life.
1988

First one-step pregnancy test 

1989

Launch of first one-step ovulation test

2003

World's first digital pregnancy test by Clearblue

2008

World's first pregnancy test that indicates when a woman conceived

2014

World's first Advanced Fertility Monitor with pregnancy testing and touch-screen

… all from Clearblue
---
Clearblue careline
Our team of trained Clearblue careline advisors are here to help. Whether you have a simple technical question about one of our products or want friendly advice to help you on your journey to parenthood, our dedicated team of professionals is here for you.
Clearblue Experts
We engage with a range of independent Healthcare Professionals to continue to ensure our scientific and educational understanding is up-to-date with the latest scientific and clinical trends. Our independent experts also critique our Clearblue product-related activities. Our Advisory Board is made up of a range of fertility, pregnancy, contraception and sexual health experts with a broad range of experience

William Ledger,
University of New South Wales, Sydney, Australia
Professor William Ledger is Head of Discipline of Obstetrics and Gynaecology of the Faculty of Medicine at the University of New South Wales, Director of Reproductive Medicine and Senior Staff Specialist at the Royal Hospital for Women and a fertility specialist at City Fertility in Sydney. He founded the Fertility and Research Centre (FRC), a joint venture between University of New South Wales and South East Sydney Local Health District as a centre for translational research in reproductive biology and reproductive medicine.

He is Chair of the RANZCOG Research Committee and a member of the Scientific Advisory Committee of the Fertility Society of Australia. He is also Chair of the Postgraduate Board of the Discipline of Obstetrics and Gynaecology, which manages Masters programs in Reproductive Medicine and in Women's Health Medicine. He is a member of the Editorial Board of 8 scientific journals and has a h-index of 50 (Scopus) and 48 (Web of Science). He is author of 344 journal articles and 17 books (6 authored, 11 edited).

Cecilia Bottomley,
Chelsea and Westminster Hospital, London, UK
Cecilia Bottomley is a Consultant Gynaecologist at Chelsea and Westminster Hospital (since 2009) where she leads the Early Pregnancy Unit.

She has authored or co-authored over 30 peer reviewed papers in top impact Obstetrics and Gynaecology Journals and now regularly peer reviews for several journals. For many years Cecilia has lectured nationally and internationally on early pregnancy and emergency gynaecology and is a medical advisor to the Ectopic Pregnancy Trust.

Nick Macklon,
University of Southampton England, UK
Professor Nick Macklon is Professor of Obstetrics and Gynaecology at the University of Southampton, and the University of Copenhagen. He is also Scientific Director of the Complete Fertility Centre Southampton.

Professor Macklon has published more than 170 Pubmed cited articles in the fields of ovarian stimulation and endometrial receptivity. He has also published three books, including the award winning IVF in the Medically Complicated Patient, and the Textbook of Peri-conceptional Medicine

Emma Kirk,
University of London, UK
Emma Kirk is a Consultant in Obstetrics and Gynaecology at the Royal Free London, where she is the Lead for Early Pregnancy and Emergency Gynaecology. She has a special interest in Early Pregnancy and Gynaecological Ultrasound. She worked as a research fellow for many years and has published over 50 peer reviewed papers on early pregnancy topics.

She has written many book chapters and edited her own book on Early Pregnancy Ultrasound. Emma is Coordinator of the European Society of Human Reproduction and Embryology Special Interest Group in Early Pregnancy. She is on the board of the association of early pregnancy units (AEPU) and is a medical advisor to the ectopic pregnancy trust (EPT). She frequently lectures on different aspects of early pregnancy.

Christian Gnoth,
Green-IVF, Grevenbroich, Germany
Dr Gnoth is director of Gynaecological Endocrinology and Reproductive Medicine at Green-IVF in Grevenbroich, Germany and professor in obstetrics and gynaecology at the University of Cologne. Dr Gnoth is author of more than 50 scientific papers, 2 textbooks and several book chapters on infertility, periconceptional gynaecology, infertility treatment, especially reproductive endocrinology.

He is also a member of the board of trustees of the German IVF Register (DIR).
In first cycle of use, vs not using ovulation tests.
Weeks since conception shown as 1-2, 2-3 or 3+ on screen
The World's No: 1 selling brand in home pregnancy & fertility tests. Based on international sales compiled using independent market research data (data on file).
Clearblue Ultra Early. 'Missed Period' refers to the day after the day you expect your period. In lab testing 79% of pregnant results were detected 5 days before the expected period, 96% were detected 4 days before and >99% were detected from 3 days before the expected period.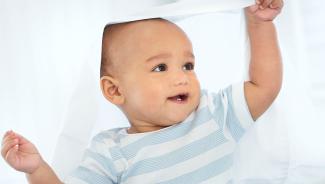 Trying for a baby?
Join our study and use Clearblue Ovulation Tests for free!
We're looking for women who are 18 and over, UK residents and trying to get pregnant. Other exclusions apply.