Unmistakably clear results 6 days early1
The Clearblue Digital Ultra Early Pregnancy Test is our most sensitive digital pregnancy test (10mIU/mL) and can detect pregnancy up to 6 days before the missed period.2
Table One: Likelihood that a pregnant woman will get a positive result with the Clearblue Digital Ultra Early Pregnancy Test when testing on the days leading up to the day of the missed period.
| | |
| --- | --- |
| Days before the period is due | Pregnancies detected |
| -1 | > 99% |
| -2 | > 99% |
| -3 | > 99% |
| -4 | 99% |
| -5 | 93% |
| -6 | 78% |
Early knowledge of pregnancy enables women to make informed choices about their health and obtain timely antenatal advice from healthcare professionals to make positive changes.3
Over 99% accurate
Like all Clearblue pregnancy tests, Clearblue Digital Ultra Early is over 99% accurate from the day of expected period.
FIRST and ONLY test with a unique stop light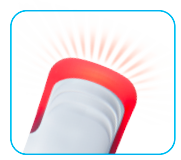 The stop light begins to flash to indicate when there is enough urine sampled to run the test.
Smart Countdown reassures her the test is working
For more reassurance throughout the testing process, the Clearblue Digital Ultra Early Pregnancy Test counts down to the result. This Smart Countdown helps reassure the user that the test is working and helps her know when her result is coming.
Easy to read
The Smart Countdown will finish in 1–5 minutes and a 'Pregnant' or 'Not Pregnant' result will be displayed on screen. A 'Pregnant' result remains on the screen for up to 1 month and a 'Not Pregnant' result for approximately 24 hours.
78% of pregnant results can be detected 6 days before the missed period (5 days before the expected period)
In lab testing Clearblue Digital Ultra Early detected pregnancy in 78% of women 6 days before the missed period, 93% 5 days before, 99% 4 days before, and greater than 99% of pregnancies are detected from 3 days before the missed period.
Minkin MJ. Embryonic development and pregnancy test sensitivity: the importance of earlier pregnancy detection. Womens Health (Lond). (2009) 5: 657–667.
Download