The amazing 'Flight for Every Mother'
across Africa with Dr Sophia Webster
Why Clearblue wants to be part of this charity mission?
Clearblue is the world's no:1 selling brand in home pregnancy and fertility tests1 and believes in transforming how women manage their reproductive health. Based on more than 25 years experience in research and development, Clearblue products play a crucial role in 'life-changing pregnancy-related moments' every day for thousands of women and couples, mostly in developed countries of the world where access to medical care is good.
In sub-Saharan Africa the situation is very different, for instance, about 500 in every 100,000 women who give birth die, compared with 15 in every 100,000 in the UK and 20 in North America. In Europe and North America it is normal to be able to find out if you are pregnant on, or even before, the day your period is due so you can take good care of yourself and the baby. In Africa, many women don't know they are pregnant until they feel the baby move.

The focus of the United Nations Millenium Development Goal 5 is to improve maternal health, specifically….
Reduce by three quarters, between 1990 and 2015, the maternal mortality ratio2
Achieve universal access to reproductive heath by 2015
Clearblue employees have decided to take action to support this goal and to stop women and their babies from suffering and dying.
What is Flight for Every Mother?
Photos provided by Flight for Every Mother Ltd.

In August 2013, Dr. Sophia Webster a UK Obstetrician, will set off from the UK to fly her plane across 24 African countries, visiting many where maternal mortality is at its worst. She'll take essential midwifery and medical equipment and training resources donated by Clearblue which, together with her clinical Obstetric teaching skills, means she can go a long way to fulfilling her aim of directly improving maternal health and saving the lives of African women and babies now and in the future.
We'll be tracking Sophia throughout her 14 week journey and she'll be sending us regular updates on her progress, the people she is meeting and the lives she is changing.
1 Based on international sales in nearly 20 countries using independent market research data.
2 Maternal mortality ratio (MMR) is the number of maternal deaths during a given time period per 100 000 live births during the same time period
The Flight for Every Mother project is initiated, managed, operated and conducted by Flight for Every Mother Ltd under its sole and exclusive responsibility. Flight for Every Mother Ltd is entirely independent from SPD Swiss Precision Diagnostics GmbH and its affiliates ("SPD"). SPD's involvement is limited to donation of a financial amount and/or products alongside other organisations and persons. For the avoidance of doubt, Flight for Every Mother is not a service or product provided by SPD. SPD provides no warranty, representation, or undertaking in connection with Flight for Every Mother.
Myth or Fact?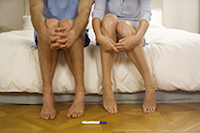 You can do a pregnancy test as soon as you have had sex.
What are the chances of getting pregnant during the fertile days?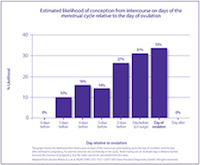 The chances of getting pregnant will vary cycle to cycle and woman to woman and will be dependent on many variables such as the woman's age, her partner's age, their general state of health and...
When does ovulation occur?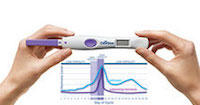 Clearblue Advanced Digital Ovulation Test
Typically identifies 4 or more fertile days*
* In a study of 87 women, 4 or more fertile days were identified in 80% of cycles using actual cycle length.